Guria was featured in a documentary "Water for Birds" in 2019
 Guria featured in an article Murkier, and Murkier by The Week Magazine in 2018
 BBC Radio Asian Network interviewed Ajeet Singhin April2015
 The Times of India published an article about Guria being awarded the Nari Shakti Puraskarby the President of India.
 Thomson Reuters Foundation and The Freedom Fund cited Guria's work as an example of a successful anti-trafficking strategy in their report ' Putting Justrice First: Legal Strategies to Combat Human Trafficking in Northern India' in2014.
 Ajeet spoke at Cambridge Migration Research Network, University of Cambridge (April 2015).
24 October 2016 – Público.es, the national Spanish press read in Spain and sometimes Latin America, also wrote an article featuring Guria. Read the article.19 October 2016 – Berria, newspaper in Basque language read in an area of south France and north Spain, wrote an article featuring Guria. Read it here8 October 2016 – Article in India Times about Guria and the founder Ajeet. India Times is the flagship brand of Times Internet which is the largest online group in India, with over 6.5 billion monthly page views. Read the article here.
12 September 2016 – Art Exhibition, Unspoken, featured in The Times of India, New Delhi. The earnings of the exhibition will be given to GURIA and the entire donation will be tripled by the Bill & Melinda Gates Foundation.
8 September 2016 – Ajeet was awarded and recognized by ZEE TV, a leading Indian television Channel, at the Fempowerment award ceremony in Mumbai.
6 August 2016 – Article on Guria in UK newspaper! The Daily Mail from London… This is about the documentary recently made about Guria. The stories of these girls are simply shocking. Here is the article and here is the video made by Blush Originals.
14 June 2016 – Guria's founder Ajeet was interviewed on the BBC WORLD SERVICE. Listen to his interview here.
11 June 2016 – Dia Mirza – Actress and Producer, who won the Miss Asia Pacific 2000 title was with the children of Guria boat school. She participated with the children in meditation, painting, singing.
27 May 2016 – GURIA founder Ajeet was awarded with "lifetime achievement" award by Life OK channel of STAR Network. The award was handed over by Film star Mr Irfan Khan.
24 May 2016 – 101 Underground created an excellent documentary about Guria's efforts to eradicate sex trafficking. Watch the video here.
20 May 2016 – The Better India published an article about Ajeet Singh and Guria. Read the article here.
17 May 2016 – Six different newspapers, Including Hindustan Times and Amar Ujala reported on Guria's National Record, in which 61 brothels were seized worth over INR 120 carores ($182 million). As per our successful innovations GURIA has already begun opposing the bail applications of all the dangerous human traffickers.
7 March 2016 – Guria was awarded the "Nari Shakti" Award for outstanding work for welfare and wellbeing of women and Rani Lakshmi Bai Bravery Award by the President of India and the Chief Minister of Uttar Pradesh respectively. The Prime Minister also invited Mr Ajeet over for tea and discussion. Mr. Ajeet invited the Prime Minister to come visit our learning center in the Red Light District of Varanasi. Read the article here.
4 March 2016 – The Times of India published an article about the 2016 FREEDOM NOW Global Art Exchange & Exhibit. Read the article here.
8 December 2015 – An inter-Ministerial Committee under the Chairmanship of Secretary, Ministry of Women and Child Development has been constituted for preparing a comprehensive legislation on various aspects of Human Trafficking, in which Ajeet Singh from Guria is a member. For details, see here..
4 May 2015 – The hindustantimes published an article telling the story of a young girl who had been repeatedly kidnapped and raped by multiple aggressors, including her husband and in-laws. In the article it mentions how Guria ended up rescuing the minor and helping her register her first information report. Read the article here.
27 November 2014 – Guria submitted a 2018 page detailed report with documentary evidences of 100 cases of human trafficking and abduction of girls for forced prostitution to the office of SP (Traffic). Read the article here.
4 July 2014 – Asian Human Rights Commission came out with an appeal in support of Guria when they were implicated in a false case when they went to rescue 20 child laborers/bonded laborers from a brick kiln, along with the labor department, and the anti-human trafficking unit of Varanasi. https://www.humanrights.asia/news/urgent-appeals/AHRC-UAC-100-2014
14 June 2014 – Guria was mentioned in 'Fate Breakers', a photo project by Pascal Mannaerts that portrays women fighting against injustice. Read the article here.
11 April 2014 – Guria launched a petition that demands an end to sex trafficking and rampant police misconduct and corruption in sex trafficking cases. Sign Here!
9 March 2014 – Guria successfully helped a PIL about rape and trafficking get passed in the Indian Supreme Court! Read the following articles in The Times of India and The Pioneer for more details!
26 February 2014 – Leading national newspaper, The Times of India, published an article about two of the cases that Guria is involved in regarding the fight against police apathy in abduction and trafficking cases. The article also mentions the 100 case report that Guria released on February 23. Read the article here.
24 February 2014 – The Times of India, published an article about the 100 Case Report that Guria prepared and presented to the government. You can read the article here.
23 February 2014 – Guria Sansthan released 100 cases of severe police negligence in sex trafficking, rape, and child prostitution cases. This report was sent to the chief minister of Uttar Pradesh stating that if the state does not give a positive response, this campaign will go down to every single village in the five districts where Guria works. Click here for the article published in the national newspaper The Times of India.
22 February 2014 – Guria Sansthan organized a massive awareness rally against sex trafficking, child prostitution, and rape with almost 15,000 women from the districts of Varanasi, Azamghar, Mau, Ghazipur, and Jaunpur. 200 victims and their families also attended the event and presented their case studies before this mass gathering. Click here for a Hindi writeup and photos. Click here for the article published in the national newspaper The Times of India.
17 February 2014 – Guria releases its bi-annual newsletter.Read about what's been happening.
2 February 2014 – National magazine "The Week" published a cover story called "The Republic's Lost Children" about sex trafficking in India, also featuring a story about Guria and one rescued victim.
Click here for whole article
Click here for section about Guria
25 November 2013 – Asian Human Rights Commission publishes an urgent appeal regarding a trafficking case Guria is involved in: Read the article here.
For all past appeals by AHRC that feature Guria visit this website
For all past appeals by Front Line that feature Guria visit: https://www.frontlinedefenders.org/search/node/Guria
November 2013 – Radio Australia posted a broadcast about Varanasi, including a segment about Guria and an interview with Ajeet:
September 2013 – Guria releases their biannual newsletter for its activities and events. See the newsletter here..
February 2013 – TeraGreen Online Magazine writes about Guria's activities at their Non-Formal Education center. Read the article here.
January 2013 – Guria releases their biannual newsletter for its activities and events in 2012. Read teh newsletter here
4 November 2012 – Guria and Ajeet Singh were featured in Paradigm Shift Project's "Breaking Chains, Building Community" short film. Watch it here: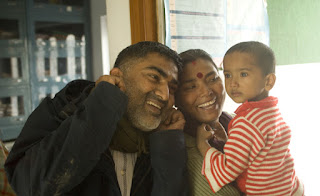 "Baked by India's mid-day sun, the red-light district in Varanasi looked like any other sleepy, parched drag on the outskirts of town. There was no glamour; no flashing lights, fancy dresses or fine dining – the typical masks worn by an industry that lays waste to women's most basic rights and makes human sensuality a commodity to be bought and sold. When I looked up over the barbed wire that lined a high stone wall, I saw children peering down at me with awakened curiosity and excited anticipation.
Guria is a grassroots NGO staffed by less than a dozen men and women. When they're not organizing their next vigilante crackdown of a brothel that employs (or rather, deploys) minors, they are committed to relieving the illegitimate children of brothel slaves from the only birthright India gives them: a lifetime-status as personae non grata.
Leading me through the facilities, the matriarch of the place explained how Guria is constantly under attack from all sides: gangsters, drug dealers, pimps, politicians, and police are all in on the sex trade. When bribes from small-time thugs are turned down, a cavalry of corrupt police are called in to shut down rescue missions by jailing or executing Guria's volunteer staff.
As we walked through the ramshackle compound, boys and girls scampered around us, excitedly applying their improvised English lessons: "Hello." "How are you?" "What country?" "My name is Mala." "Picture-photo?"
I was puzzled that children born into an underworld of human suffering could still laugh and play with downright exuberance. The explanation came when the matron showed us the children's daily ritual of meditation.
My idea of meditation involves taking time just to be present. Meditation for children in Guria could not be more different – to be present is to suffer the harsh realities of a life without family, freedom, opportunity or hope. I was grateful for what precious little Hindi I knew as I sat and listened to the matron directing the fifty odd children sitting cross-legged, eyes squeezed desperately tight. "Do not be angry with your mother…You are loved…if you see someone suffering, help them…Now go far, far away…Keep going…Farther…"
"It's so important," she whispered to me with quiet satisfaction. "Within ten minutes, they'll all be asleep."
Initially I chose to take time away from school to travel around India because there's a norm amongst my fellow twentysomethings to get out and "see the world," to not "let life pass us by." The children in Guria close their eyes and meditate because the world does not want to see them. Their lives pass them by long before they can even realize it. Every moment spent in a makeshift daydream, a meditative trance or an afternoon nap is a moment not spent as just another foregone conclusion. Outside those barb-wired walls, they will always be seen as a walking mistake; the strange fruit of virtue betrayed; the unwelcome reminder that even Varanasi – India's "city of saints" – has its district of sin."